FOR SALE- Hand crafted, hand felted.

"Wynne"- Wattle Green Scarf with white mohair embellishments. The embellishments are a bit loose in places as they didn't take well. One end has a block of natural(white) wool as a feature, I had planned on making tassels. However, I am quite happy with the finished product, but if you want some chunky tassels(like in the pictures of Niamh) I am happy to add them. Almost paper thin, natural edges. Measures approx. 23cm x 180cm. $10- plus P&H.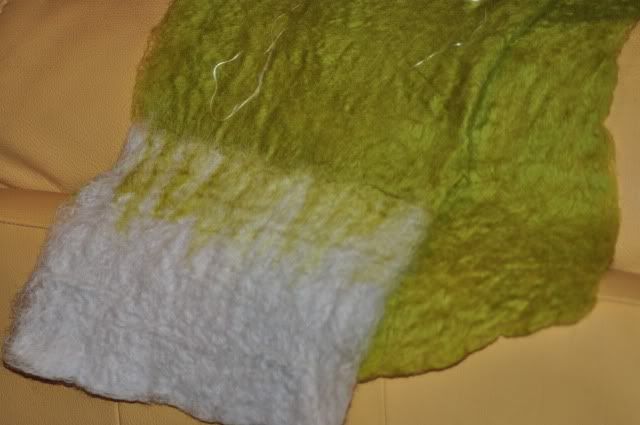 "Oceanus"- Baby Blanket. Mixed colours; blues, purples, greens, browns. Made from a luxury blend of hand dyed Angora bunny, organic superfine merino, peace silk, kid mohair, soysilk, glitz and angelina. Very fine, but still toasty warm. Measures approx. 75cm x 80cm, side to side, as the corners are a bit stretched. Very, very proud of this one, I want to keep it, but know that I shouldn't. Excellent gift for a new baby. Natural edges. $40- plus P&H.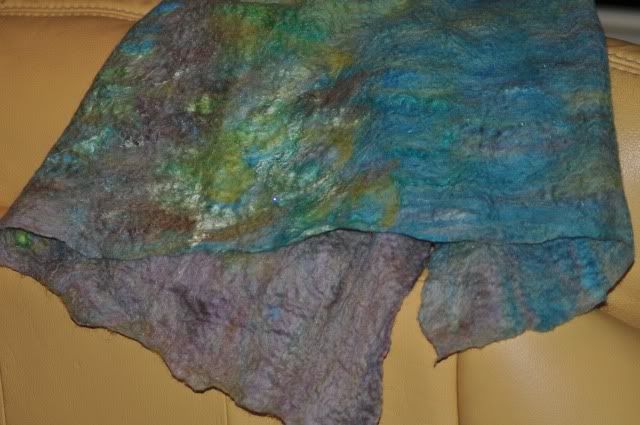 Beads- great for creative jewellery, or other crafts. Available individually. I am waiting for them to dry so I can get an acurate weight to work out cost. Price will not include P&H. I can make a basic necklace, at further charge, just ask. If you see a particular(round) bead that you want count Left to right, top to bottom, and let me know what number you come up with. The flat beads are very similar but if you see one special one let me know and I'll try to re-find it.